Included in your latest release...
Easier 'Request Refund' Process
To make it easier to request refunds you can now initiate a refund request from within Unbiased Pro (on the Enquiry Details screen for the enquiry you want to have refunded).
This means that we automatically have the details about who you are (via your login credentials) and the enquiry you want refunded. You no longer have to complete a long form or draft an email and remember which details to include in your request. This has two benefits:
Submitting refund requests is now really quick and easy (with just 2 mandatory fields to complete)

We can process your requests more quickly as we have all of the required data immediately to hand
We will automatically create a Refund Request ticket and email you the reference number so that you know the request has been submitted. You can use the reference number should you want to request updates (though you will ordinarily receive an update within 5 working days).
For more information, please see How to Request an Enquiry Refund.
Request a Refund from Within Unbiased Pro
To request a refund from within Unbiased Pro:
Log in to Unbiased Pro
From any tab on the Enquiries screen, find the enquiry you want refunding
Click on the enquiry to open the Enquiry Details screen
Scroll down the left-hand side (Details tab on mobile) to find the Request Refund button
Click the Request Refund button
Complete the form that opens up (providing as much information as possible)
Click Submit to submit your refund request
Where to find the 'Request Refund' button on desktop...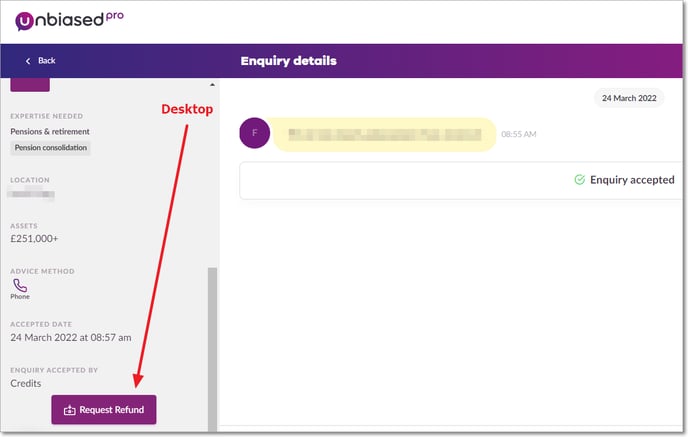 Where to find the 'Request Refund' button on mobile...