In this update...
The latest updates and improvements to the adviser Pro app include:
Easier Profile selection in the Analytics reporting
In the Performance Analytics section of the Pro app, the 'Profiles' dropdown (which controls the data that is displayed), has been updated so that it is now searchable. This is especially useful for companies that have 10+ Profiles.


The ability to export all Enquiry data for Profile Performance reporting
Previously it was only possible to export your Accepted Enquiries data. This update makes it possible to export all of your Enquiry data for any chosen month (via the Export button on the Performance Analytics dashboard). This means that you can analyse the data in Excel (or other system of choice) to report:
Total Enquiries received by that Profile (including Enquiries that are no longer available)

Accepted

Rejected

Expired
Because the CSV file contains Accepted Enquiries, it is possible to use this new export to import these leads into your CRM and/or BI software.
To help you use this file, please read the following two sections:
How to open the CSV file in Excel
If you double-click the CSV file to open in an application such as Excel, then Excel will apply the wrong encoding and/or field data types. This will lead to:
Odd characters such as  instead of £
Phone numbers looking like this 4.47953E+11
To avoid this, follow these steps:
Open a blank spreadsheet
Click the Data tab and select Get Data from Text/CSV




Find the saved CSV file on your computer and import it
When prompted select Unicode (UTF-8) as the File Original




Next click the Transform button
Select the Client Phone Number column




Now click the Transform tab and change the data type to Text (click Replace Current when prompted)




Finally, click the Home tab and then click Close & Load


Excel will now have formatted your data correctly.
How to use the Include Active Enquiries filter
Imagine the scenario where it is the middle of April and you export all Enquiries for April. If you include 'Active' Enquiries, it means these you'll see Enquiries that have been offered to you that have not been Accepted or Rejected by you (or any other adviser) and that have not yet Expired (i.e. they are still available).
If another week passes and you download April data again, then those same Enquiries will be included in the export, but their status will have changed (depending on whether you or any other adviser Accepted them or if they've since Expired).
There are two common ways you might want to manage this:
The first (more simple) option is to choose to never include Active Enquiries. The only consequence of this is that for month-end reporting, you would need to wait 2 days after month end for Active Enquiries to be taken/expire before downloading the data (for true monthly reporting).
The second option is a little more involved, but gives you 'live' reporting. Each time you export data for the same month, you can compare to the previous month and analyse the changed status of Active Enquiries using the unique Enquiry ID and update your reporting/system accordingly.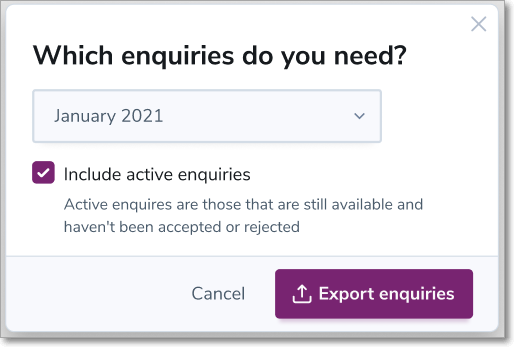 An updated design of the Enquiry Filters
The updated design (as illustrated in the screenshot below) is pre-requisite work that will enable us to introduce a wider range of filters across all Enquiry tabs (including the Marketplace for Enterprise customers). These additional filters will be introduced in coming weeks and are designed to help you find the Enquiries that are important to you more easily. We'll also be introducing 'persistent' filters - meaning your last applied filters will be saved on the browser (so you don't have to reapply criteria).

Marketplace Enquiries availability in business hours
Exclusive to Enterprise subscribers…
Feedback from some Enterprise customers was that they like to immediately call leads upon accepting Enquiries, and therefore they would not accept enquiries at the end of the working day. However, this meant that some great opportunities were being missed.
We listened to that feedback, and now Marketplace enquiries are available for 3 full business hours (defined as Monday through Friday from 9am to 5.30pm, excluding UK bank holidays). This means that an enquiry entering the Marketplace immediately prior to a bank holiday weekend will still be available when returning to work the following week.


Better visibility of important Marketplace Enquiry times
Exclusive to Enterprise subscribers…
Based on the above feedback, we also realised how important key times are. We therefore now display the following on Marketplace Enquiries:
Enquiry Submitted date/time (so that you know how old the Enquiry is)

First Available on Marketplace (so you know how new to the Marketplace the Enquiry is)

Expiry date/time (so that you can easily see how long is available and never miss another opportunity)

In the near future we'll be introducing filters based on these times e.g. 'Show me all Enquiries that are leaving the Marketplace within the next 30 minutes'.


The introduction of Marketplace Enquiry statuses
Exclusive to Enterprise subscribers…
To help you better manage the volume of leads available in the Marketplace, we've introduce Enquiry Status. These include:
New (auto-status when new Enquiries enter the Marketplace)

Viewed (auto-set when viewing the Enquiry details)

This can manually be changed too, enabling it to be used like a read/unread flag on emails. It makes it easy to see which Enquiries you or your colleagues have already viewed.

Shortlisted (for Enquiries you're considering)

If you have too many Enquiries to choose from, Shortlisting can be helpful so that you can easily go through the most suitable Enquiries again and Accept the best.

Dismissed (for Enquiries you've reviewed and aren't likely to Accept)

When you Reject an Enquiry, you no longer have access to it. Dismissing is a way to indicate that it isn't the best fit, whilst still giving you the option to later change your mind.

In the near future we'll be introducing filters based on these statuses to make reviews easier e.g. 'Show me all Enquiries that I have Shortlisted'.