In this release...
The latest updates and improvements to the adviser Pro app include:
Batch Reject Enquiries
We know that advisers receiving large volumes of enquiries sometimes prefer not to reject those not meeting their criteria individually. However, ignoring these enquiries has a negative impact on the response score. We've therefore added the ability to multi-select and batch-reject enquiries to make this quick and easy to do (one page at a time).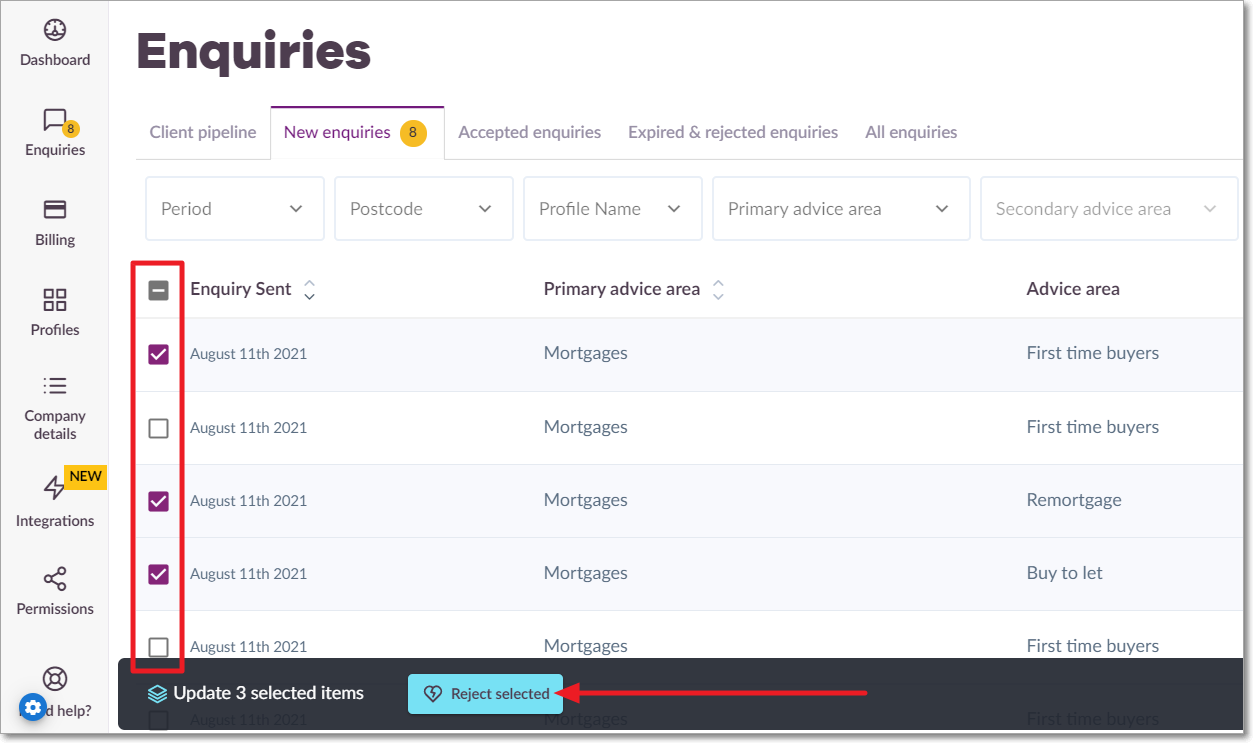 Updated UX and Functionality on Enquiries Tabs
We've been updating the All Enquiries tab with a new design that allows you to do things like:
Choose sort order

Choose the order that fields are displayed

Choose which fields are displayed

Multi-select Enquiries to perform batch actions (see above)

Use advanced filters (that are saved) to choose which records display
This is all about making it possible for you to see exactly what you need to see in a way that makes most sense for the way you prefer to work. This new functionality is now being rolled out across the other enquiry tabs for a full-featured and consistent user experience.
Simply click the 'cog' button at the top-right of the list, then use the 'handles' and toggle buttons to customise your view.

Refunded Enquiries (on the All Enquiries tab)
To make it easier to identify which of your enquiries have been refunded, we're now using a unique Status label on the All Enquiries tab. This will apply to all newly refunded enquiries from the date of release.
Note that you can also filter to see only refunded enquiries.
In upcoming developments we'll also be:
Adding a Refunded column to the Enquiry Pipeline

Adding a Refunded Enquires tab

Updating the Performance Dashboard to show all types of enquiries (including refunded).
As part of this we'll be improving the conversion rate calculations.