This guide explains how to quickly and easily manage how Adviser Profiles appear on the Directory for each of your Branch Locations.
If you were a customer of Unbiased prior to 24th February 2022, you may want to read guide to 'Moving Adviser Profiles to the Company Level' to learn how to quickly and easily migrate your data and take full advantage of these new features.
Your company (as configured on Unbiased) consists of:
One (or more) Branches / Locations
One (or move) Adviser Profiles
These Adviser Profiles will be displayed on your Branch Profile listing within the Unbiased Directory.
You can choose to link an Adviser Profile (i.e. display it) on one or more Branch Profiles. We've provided several ways to do this, making it easy from wherever you are within the Unbiased Pro application.
The image below illustrates how the relationships between these entities can be configured.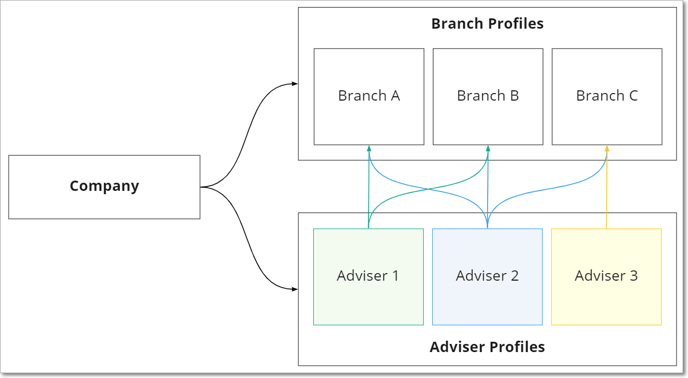 Adviser Profiles Tab (Company Level)
The Adviser Profiles tab lists out all the Adviser Profiles associated with your company. From here you can:
See all your adviser profiles and how many Branch Location profiles they're linked to
Use filters and sorting to find the adviser profiles you're most interested in
Edit (and delete) existing adviser profiles
Add new adviser profiles
Perform batch actions on multiple (selected) adviser profiles with one click

Associate the selected adviser(s) with ALL branch profiles
(for example, when a new adviser joins your company)
Disassociate the selected adviser(s) from ALL branch profiles
(for example, when an adviser is on maternity leave and will be returning)
Delete the adviser profile - removing them from the system completely
(for example, when an adviser has left the company)
You can navigate to this tab by clicking on Profiles (from the left-hand menu) and then selecting the Advisers tab.

Edit Adviser (Popup)
When you edit an adviser, a popup will display. The third (Locations) tab allows you to:
See which of your Branch Locations this adviser profile is displayed on (Include = On)
Make changes to the Branch Locations this adviser is linked to (by toggling the Include switch)
Filter and sort (to find the Branch Location profiles of interest to you)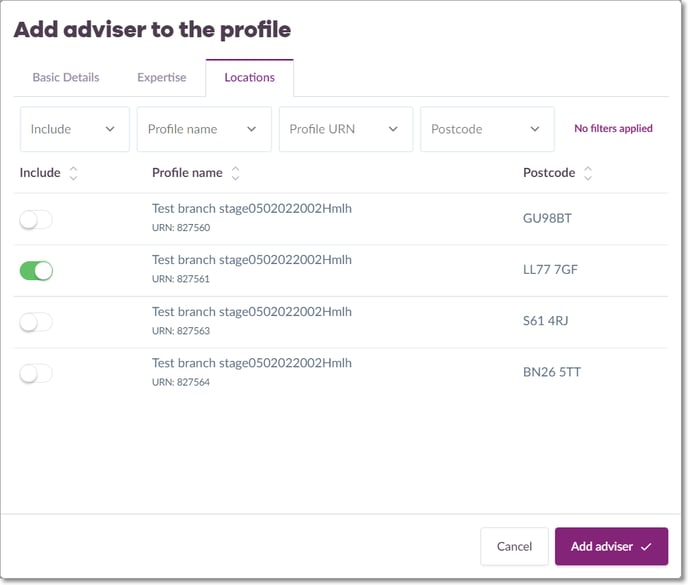 Branch Location Adviser Profiles
When viewing / editing a Branch Location profile (by selecting the Branch Location from the Profiles screen), selecting the Advisers tab will show you all the Adviser Profiles for your company. From here you can:
See which advisers are associated with this Branch Location
(and will therefore be displayed on the corresponding Directory page)
Use sorting and filters to find the adviser profiles of interest to you
Add new adviser profiles (to your company, and optionally associate them with this branch)
Edit adviser profiles
Specify the sort order that the advisers should appear in (on the corresponding Directory page)